• Francehousehunting • Romantique
The doors once unlocked and the shutters were thrown open to let in the pale sunlight, often release musty stale air, the smell of forgotten things and a cold that could chill a Polar Bear.
---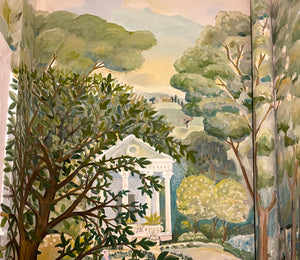 We have struggled with the design for this bathroom as it really lends itself to wallpaper to give it a bolder fantastical feeling. The wallpaper we fell in love with was priced through the roof, and as it is a wet room we worried that it might not be very practical. Nic came up with a clever and innovative idea. He would paint a mural on the wall!  Many hours of research, drawings, choosing a theme and colour prevailed. Once we had the bones of an idea he went to work sketching the idea onto the wall to get the...
---
• buyingtoursfrance • diyfrance • Francehousehunting • Romantique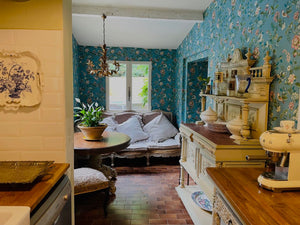 In June 2021 Nic and I went back to France during the World wide Pandemic. We had talked about it endlessly and had decided that if we didn't travel back this year,  we wouldn't have any stock to sell in our shop for the next 18 months which meant imminent closure. We were lucky to get our vaccination early in May and a 6 month Visa from the French Embassy. Getting out of NZ was the easy part. We learnt after we had left, that getting back home was almost impossible.  We arrived in early June to a masked up France. Covid passes...
---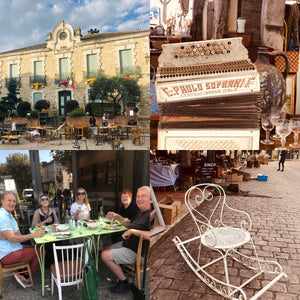 The beds are comfy, the antique linen sheets and feather duvets make up for the lack of furniture and painted walls.
---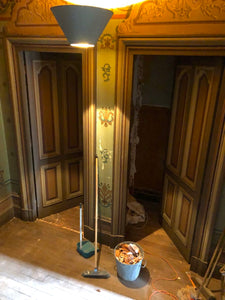 Nic races to finish the third bathroom before the imminent arrival of our first buying tour. We are building a bathroom on the first landing next to the Princess room. It was originally two small storage rooms perhaps for linen and clothing. We now have Armoires in the rooms so the space is ideal for conversion. Its tricky as the wall between is brick and plaster, so a considerable amount of bashing and dust is going to happen. I shut the doors while Nic starts the bashing so we can minimize the dust clouds from filling every room in the...